The Huffington Post  |  By Tyler Kingkade Posted: 10/17/2012 6:10 pm Updated: 10/17/2012 6:10 pm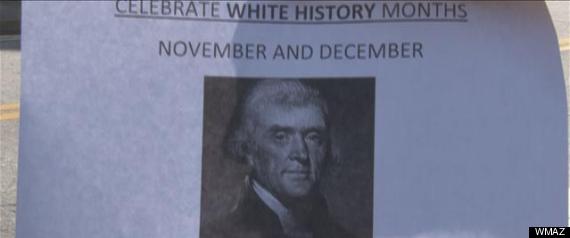 A flier being circulated in the Mercer University residence halls declares November and December as "White History Months," and students are not big fans. Around 40 students rallied on the Macon, Ga., campus Tuesday to show their outrage against the flier, WMAZ reports.
"Since there is too much white history to squeeze into one month, we will settle for two," the flier reads. It also complains there are no white student groups on campus:
There are African American societies, black student organizations, and Indian heritage associations; however, there is not one white society of engineers, white student organization, or Caucasian heritage association. Why? Because if there are, various individuals will say this is racism.
Students referred to the flier as evidence of persistent racism and a bad attempt at satire.
"I think it just shows how real racism is in our community and even though we say that we have moved passed it and that we are in a state of enlightenment that racism is still real," student Fredrick Woods told WMGT.
In an email to the Mercer community, university President Bill Underwood said the flier "demeaned efforts to promote education about people of diverse races and cultures and their contributions to our society. The ignorance reflected in the poster is a reminder of the imperative of these efforts."
A student at Towson University in Maryland also sparked controversy recently by ... on campus. Matthew Heimbach has stood behind his proposal to start such a group at Towson while sharing his own fliers that read, "Love Your Race."
Mercer's flier was anonymous, and it isn't the only anonymous flier to cause controversy on a college campus recently. Students were outraged at Miami University in Ohio over a flier found detailing "10 Ways To Get Away With Rape."
http://www.huffingtonpost.com/2012/10/17/white-history-month-flier-...