Alice Patterson / Black Robe Regiment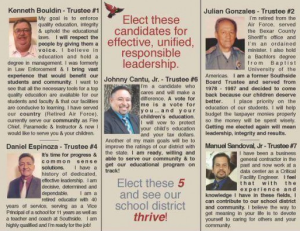 When I attended my first school board meeting, it was such an eye-opener! I believe that most people do not realize the incredible power that a school board has. I'm wondering, who is holding them accountable?" Those are the thoughts of Pastor Berta Brannstrom, who co-pastors The King's Mission Fellowship in San Antonio along with her husband, Rune.
The Brannstroms had read an article in the local newspaper about a sitting member of Southside Independent School Board (SISD), Alma Guzman, who had sued SISD for $1 Million for false dismissal. A federal judge ruled against her, but the school board voted to award Ms. Guzman $120,000 out of SISD funds in spite of the court decision. In addition, the board had chosen as Interim Superintendent a man with no background in education or certification as either superintendent or principal. He had put family members on the payroll, including his wife and son. There were a lot of suspicious fiscal policies that concerned the community. As Pastors Berta and Rune attended their first school board meeting, several things they witnessed shocked them.
 The School Board Meeting
The meeting didn't start on time. The school board members were standing around chatting with one another long after the meeting should have begun. An older, small, soft-spoken man that they later learned was a Baptist minister, Pastor Julian Gonzales, went to one of the board members and asked politely, "Mr. Brewer, don't you think it would be good to get things going here?" Board member Loren Brewer, not looking at or acknowledging him, turned to the back and said, "Security, would you please come and take care of this? This man is harassing me!" Berta said,
"Rune and I looked at each other and said, 'What on earth is this?'"
The school board took up only one agenda item before they went into executive (closed) session for two hours. The people in the audience had plenty of time to get to know each other while they waited for the board to reconvene. Pastors Berta and Rune met Pastor Gonzales, who was disappointed with the way the board had fired the previous superintendent without due process. He said, ""I'm an old man and a widower, but I feel so stirred up in my spirit. I'm going to run for school board and find others to run with me. If we don't do something, who is going to do it?"
Pastors Berta and Rune affirmed, "If you do this, count on us. We will do whatever you want us to do."
Pastor Gonzales had been elected to the school board at the age of 36 and had served for nine years 37 years ago from 1978 to 1987 and knew how the process worked. He called a lady on Monday about filing for the election only to find out the filing deadline was just 4 days away on Friday. Only one person had filed against the old board, and that was against Manuel Sandoval. Pastor Gonzales filed his paperwork and got busy recruiting individuals to run. Mr. Sandoval was on the board but didn't go along with the direction the board was taking. In fact, a local media outlet called Abecedarian Hubpages quoted Board Member Brewer as saying, "'Mr. Sandoval asked too many questions,' prompting the 'team' to run another of their 'inner circle' against Mr. Sandoval." Pastor Gonzales explained, "Mr. Manual Sandoval wasn't going to file for re-election, because his vote and voice were not making any difference. He said: 'It's useless. I'm just wasting my time.' The board was so strong and determined to continue to conduct business and violate policies. When I called him that Monday, he said he was willing to run with our group."
So Pastor Gonzales, who pastors Iglesia Bautista Cristo El Rey, got busy and recruited 3 other people to run: Daniel Espinosa, who teaches a weekly Bible study in a neighborhood home in the district; Kenneth Bouldin, a deacon at Glory Bound Baptist Church, and Johnny Cantu, Jr., youth pastor at Kingsborough Ridge Baptist Church.
The five candidates worked hard in the short time they had to campaign. They had house parties and went door to door. Pastors Rune and Berta opened their home to the group at various times, started attending neighborhood meetings and involved some of their neighbors in Mission Del Lago subdivision.
A Celebration of Praise to the Lord
They were asked to open their home for the Victory Party on Election Day, May 9, 2015. It became a celebration of praise to the Lord. Each of the five candidates Pastor Gonzales had recruited won with the lowest percentage being 62% and the highest 71%! Two years earlier 360 people voted in the election, but this year over 1,000 people voted for a record turnout and a historic victory.
Pastor Gonzales finalized, "I have a passion for education and for our nation. Above all, the Lord has been in my life guiding me. We talk among ourselves—the new board and I. Daniel Espinosa has been a teacher, principal at a charter school and worked in a middle school. We are Christians. We have our congregations, but does it stop there? Or do we go into the civic arena as a citizen? We must get involved in politics—for the students, especially. It's not so much about politics but it's for the people. We must deliver for them. The Lord is moving in a miraculous way to allow us to put some righteousness in the school system."
Action Points
If a 73-year-old pastor can engage in his community and make such a huge difference, what can the rest of us do?
One of the keys is to look at the school board, where few people focus their efforts. But what is happening in the schools today is damaging the Judeo-Christian culture of our nation. It's time for others across the nation—young and old—to begin to do what Pastor Julian Gonzales did.
Size up the situation in your school board.
See what seats are open for election and when.
Begin to recruit candidates to run for those offices.
Get training about how to run for office from www.leadershipinstitute.org and other credible organizations.
Educate and mobilize the community – through churches, prayer networks and Bible studies—to make a difference—for the children—and for the nation.
-------------------
Alice Patterson is a staff writer for National Black Robe Regiment, Founder of Justice at the Gate and author of Bridging the Racial & Political Divide: How Godly Politics Can Transform a Nation. If you have questions about local organization, contact Alice at info@nationalblackroberegiment.com
- See more at: http://nationalblackroberegiment.com/pastors-turn-a-local-school-bo...